For the first few years of Isle of Elsi, there will not really be anything to buy, because I am still working towards the first book collection of the comic!  In the meantime, you might enjoy my first book…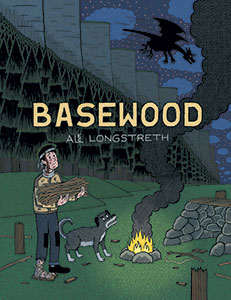 BASEWOOD – 9″ x 12″, Hardcover, 216-pages, $19.95
Adventure! Mystery! Tree houses! A Wolf-Dragon! Basewood tells the story of a young man who wakes up in the woods, with no memory of how he got there. The reader follows along as our hero tries to uncover the details of his mysterious past while he fights for his survival.
This was my first book-length comics project, and it is in the same vein as Isle of Elsi (fantasy) though a bit more serious. Some parts may be a bit intense for younger readers (about the same level of intensity as Jeff Smith's Bone series). I've had readers as young as 6 years old tell me they enjoyed the story very much.
Basewood is available for sale on the Phase Seven Comics website.