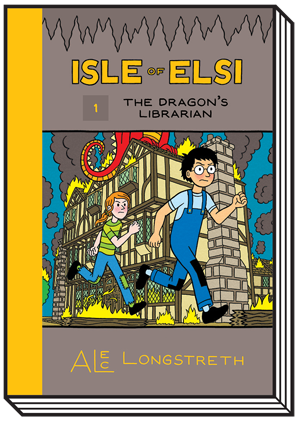 Isle of Elsi: The Dragon's Librarian (Book 1)
This middlegrade comics collection brings together the first three stories from Alec Longstreth's award-winning webcomic, Isle of Elsi:
These lighthearted fantasy adventures feature dragons, wizards, talking wolves and lots of silly wordplay!
This full-color, hardback book was the result of a successful 2019 Kickstarter campaign. You can check out the book by viewing the video preview below!
---
Print Edition:

• 7.625″ x 11.125″ Hardcover
• 144 Pages
• Full-color throughout
• $19.95
• ISBN 978-0-9989852-6-8
Shipping inside the USA
$20 + $5 shipping & handling

Shipping to Canada
$20 + $20 shipping & handling

Shipping Internationally
$20 + $25 shipping & handling
---
Digital Edition:

• DRM-free PDF file
• 146 Pages
• Pay what you want! $1+
---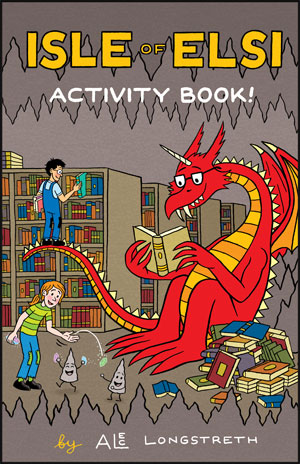 Isle of Elsi Activity Book!
This activity comic book includes the short story "R.J. Jr. in Fool's Mate," and these other fun activities:
• A connect-the-dots page
• A town tour conducted by Sally Sanders
• A book-themed word search
• "What's in a name?" word puzzle
• "1, 2, Switcheroo!" comics puzzle
• "Hidden Books" game
• A two-page forest maze
• A dragon drawing activity
• A coloring page
As a bonus, all activity books will ship with a free Isle of Elsi bookmark and postcard!
---
Print Edition:

• 6.625″ x 10.25″ floppy comic
• 20 Pages
• Full-color throughout
• $3.00
Shipping inside the USA
$3 + $2 shipping & handling

Shipping to Canada
$3 + $8 shipping & handling

Shipping Internationally
$3 + $9 shipping & handling
---
Digital Edition:

• DRM-free PDF file
• 24 Pages
• Free! (or donate! $0+ )