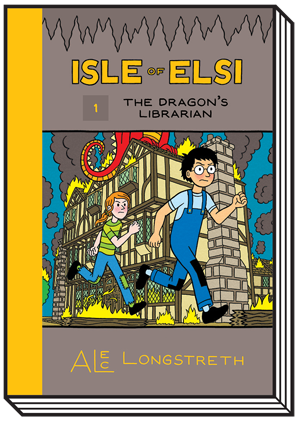 Isle of Elsi: The Dragon's Librarian (Book 1)
This middlegrade comics collection brings together the first three stories from Alec Longstreth's award-winning, Eisner-nominated webcomic, Isle of Elsi:
These lighthearted fantasy adventures feature dragons, wizards, talking wolves and lots of silly wordplay!
This full-color, hardback book was the result of a successful 2019 Kickstarter campaign. You can check out the book by viewing the video preview below!
---

Print Edition:
• 7.625″ x 11.125″ Hardcover
• 144 Pages
• Full-color throughout
• $19.95
• ISBN 978-0-9989852-6-8
Digital Edition:

• DRM-free PDF file
• 146 Pages
• Pay what you want! $0+